Advanced 9-Piece Set Lock Picks
Aiminlock, the factory manufacture cheap Advanced 9-Piece Set Lock Picks,item No.AML020008
Advanced 9-Piece Set Lock Picks is a Professional Product, produced for professional locksmiths who have the security license use only.
The advanced 9-piece set lock picks are specifically designed for opening the locks with small or narrow keyways. The advanced lock picks includes 9-piece hook picks and 1-piece transmission pick. The fantastic designed picks include most styles of rake, hook, riffle, diamond and diamond-hook, it can quickly open the car locks and normal locks with narrow keyways.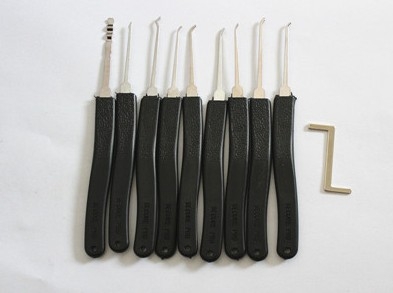 Manufacture description:
- 8 single picks with different angles.
- 1 pick for open car lock.
- Including 1 transmission pick.

If any professional locksmith workers or some wholesale shops need the Advanced 9-Piece Set Lock Picks, just find aiminlock shop, manufactured it and sell it with the best price.